American Grower Insurance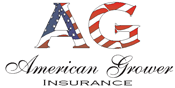 American Grower Insurance is truly a unique company. It's our commitment to you, personally and professionally, that makes the difference. We take both your business and our relationship with you very seriously. We work hard to help maximize and stabilize your farm's financial future.
Crop insurance costs the same no matter from whom you buy it, but at American Grower we provide more. You can count on personal service, on-farm visits, timely information and a variety of management tools. These extras benefit your farm's total risk management plan, and we provide them at no extra cost to you.
We can provide outstanding service because our agents and employees attend training above and beyond the minimum required by the underwriter. Our agents attend training five times a year. This creates agents with the knowledge and the ability to provide industry-leading service for your farms risk management plans.
We look forward to talking to you about your crop insurance and risk management needs. Please call us at (800) 373-6064 to arrange an on-farm visit to assess and evaluate your needs today!
AMERICAN GROWER INSURANCE – PROUD MEMBER OF THE KOVA AGRIBUSINESS TEAM

As a member of the KOVA Ag Team, American Grower complements, supports and sustains KOVA Ag Team members and their customers through risk management solutions.
"We take our profession seriously. At American Grower, you will never be just a policy number. We view each of you as an individual customer with a name and a farm that has specific needs. We are dedicated to finding the best solutions for your farm and your needs."
Robin Webster, General Manager