KOVA Retail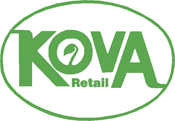 KOVA Retail maintains a solid dedication to satisfying the retail farm customer by bringing them the highest quality of fertilizer, chemical and seed products, and knowledgeable services at a fair and equitable price. They apply sound business practices to help customers create a viable future for every field every year. With a strong emphasis on environmental stewardship and public safety, KOVA Retail respects the producer, the crops and each field their services touch.
Prescription solutions suit some customers best and KOVA Retail backs them up with the products and techniques they need to best influence yield while meeting operating expense goals. All customers are guided to help realize the best satisfaction for their financial objectives on fertilizer and other crop input needs.
With a committed staff, KOVA Retail serves customers as family – offering field by field customer by customer and year to year support. Their credibility and reputation are well respected by producers across Indiana.
KOVA Retail is proud to interact with all of the business units in the KOVA Ag Team. They provide a foundation for all divisions to gather information, to help identify trends and market changes. The retail side of the business is driven to be a profit oriented entity that allows a productive presence and a profitable future for all customers.
KOVA RETAIL – PROUD MEMBER OF THE KOVA AGRIBUSINESS TEAM

"The retail dealership provides a critical link to agricultural productivity. By knowing our business, the products and sharing information well, we can offer personal service in a positive manner to all customers."
Brian Reed, General Manager