KOVA Wholesale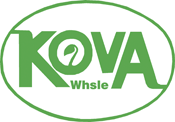 KOVA Wholesale serves agricultural retailers and dealers across Indiana by providing fertilizer and crop protection products and services. Leveraged strength comes from their ability to effectively manage their wholesale distribution business to the benefit of their customers.
As a unique, family-based chemical distributions system, KOVA Wholesale markets products and services to area retailers. They are committed to helping crop protection retailers provide for their customers efficiently and effectively.
Their products are available, accessible and well managed – allowing their retail customers to best provide growers with the products they need when they are required. This ready resource has become trusted partner enabling retailers to effectively meet and exceed growers' needs.
Family owned and with dedicated employees, KOVA Wholesale's honest integrity and ability to work with clients well is due to their long-standing presence in the marketplace as well as their ability to attract and keep good employees.
As a member of the KOVA Ag Team, KOVA Wholesale is able to provide their retail outlets with additional services such as seed, financing, crop protection products and risk management services. Access to this impressive portfolio of support creates and sustains their value to their customers as well as to the growers of they serve.
KOVA WHOLESALE – PROUD MEMBER OF THE KOVA AGRIBUSINESS TEAM

"It's not about being the biggest. It's all about doing the right things well and for the right reasons. Our commitment to our customers is rooted in truth, honesty and integrity. We work hard to equip them to best serve the grower."
Brad Reed, General Manager